ABOUT US
The Live Camp Work Community
Live Camp Work is all about the ability to Live, Camp & Work when, where and how you want! It's about the freedom to explore on your own terms.
Our content is fresh, relevant and written by people living the life and those who are excited about doing it their way! We encourage our readers to stop waiting for someday, when today is better than perfect.
Our website is full of informative blogs, in-depth RVing lifestyle guides, RVing books, online Workamping courses, a private Facebook Group and even online events to keep you connected!
Much of our content is directed at what we call the RV Workforce TM, but we try to have a little something for all RVers to enjoy regardless of how often you travel!
OUR READERS
Our readers are a mix of people from millennials to retirees and everyone in-between (Ages 25-75).
One thing they have in common is that they are all RV enthusiasts who:
MISSION STATEMENT
Live Camp Work was created to help provide information to working RVers about ways to make money on the road. By providing a variety of both free information as well as in depth resources our mission is to be an asset to those who wish to work as they travel.
OUR VISION
Live Camp Work strives to maintain a voice of authenticity from personal experiences while delivery unbiased information. We pride ourselves in telling the true story, providing real reviews and references to great products and services the RV community can count on.
OUR VALUES
Live Camp Work has no tolerance for those who lack a moral compass or ethics. We have built this business from the ground up without the need to lie, steal or cheat others and will not support or endorse those who disagree or show signs of other business standards.
The team at Live Camp Work has had the pleasure of working with a variety of brands, both inside and outside of the RV community. We've recently worked with leading RV and travel brands like RV Trader, Escapees RV Club, Harvest Hosts, The RVers, as well as City Pass, Go San Diego, SONDORS and many others!
Working with brands that hold similar values, encourage family travel and have a high quality product or service is our main goal.
OPPORTUNITIES
Tourism Organizations & DMOs
Exploring new destinations and new places inside destinations we've previously visited is the main goal of our travel adventures! We love to see and do! While working with destinations, we provide a variety of content and features based on the acquisition of content throughout our personal experiences. We can offer multiple written posts like a destination guide, Top Ten Things to Do, and for large cities, we have the ability to build an entire page on Meet the Colliers around the trip where all content will be featured for easy navigation.
Local Attraction:
From museums and tours to excursions and local restaurants, the Collier family works with local attractions to help drive traffic to newly discovered destinations through local exploration of attractions both big and small! When we partner with a local attraction we want our experience to be just as any other guests, no special arrangements needed! Authentic experiences are what we thrive on, and this content is what our readers want to know about. Each Local Attraction Sponsor will have a featured post or article sent for publication in other avenues in exchange.
Sponsored Stays:
New camping and hotels hot spots are something we love to discover! Whether that's a glamping getaway or a treetop villa, the Collier family loves to feature new properties that family travelers want to read about. If you are looking for digital media exposure, and want to market specifically to families with children in tow-we urge you to contact us to make the necessary arrangements.
Reviews, Giveaways, and More:
If you are interested in providing products or services for our use and review, we will gladly write a thoughtful and accurate review of items received. All opinions we express are our own, we do not accept payment for positive reviews. If, after reviewing your product or service personally we feel it is a good fit for our audience, we can arrange for a sponsored giveaway or incentivized contest.
Get in touch and let's talk about ways we can bridge the gap between your goals and our audience.
PUBLISHED IN
ROVA・ RV Trader・Woodall's・ Escapees・Let's RV・Camping Today・Winnebago Life ・RV Daily Report・ Families on the Road・RV Life・Workamper News
Working with brands that hold similar values, encourage family travel and have a high quality product or service is our main goal. Please refer to this page for additional information.
The intersection of living, camping
and working on the road.
The idea for a helpful and modern website about the intersection of living, camping and working on the road started back in 2015, when Sharee Collier, was traveling and working seasonal jobs on the road with her family. They had been living in an RV full-time for about 3 years and she was looking for an alternative to her then family travel blog, Meet the Colliers.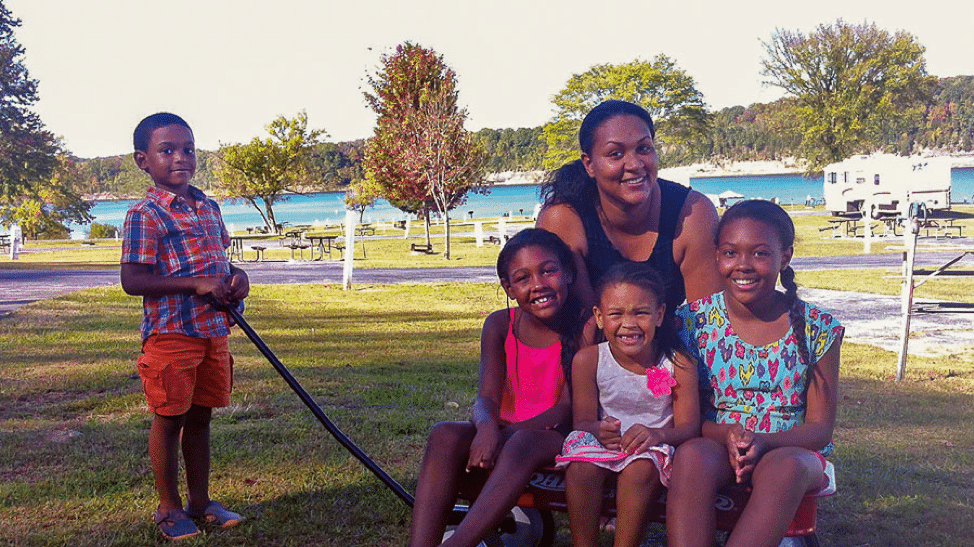 Sharee Collier is the author of Live Camp Work: A Beginners Guide to Workamping, a perpetual traveler, wife, mother of 4 and an adventure seeker!
Live Camp Work was officially founded in 2018, during the launch of her first book, Live Camp Work: Make Money & RV Full-time. The main goal was to stay connected to her book launch team with updates and general information that centered around the creation and editing of the book.
As the team grew to well over 300 people, Sharee decided to slowly incorporate additional posts from her own personal experience and knowledge of the world of Workamping.
Trying to provide great information to as many people as possible, Sharee offered her book for FREE to the members of an RV job board and captured thousands of readers through an option for them to provide their email in exchange for an advanced reader copy. From this point moving forward, Live Camp Work has continued to gain traction and grow to a community of thousands of working RVers who need and want genuine information about income opportunities.
WELCOME
We welcome you to our RV community!
It's full of adventure, information, and resources to help you get started, maintain, and go farther than you imagined possible.
If you're new here, start with these post: